Recorders
The recorders pages give you an overview of the recorders made available for you. Members of the administrators group will always see all recorders. Other users (or groups) need to be given specific rights to each individual recorder. Also they need a role with Monitor Recorders permission.

Recorders can be identified with different icons :

Local network and on-line

Cloud network and on-line

Off-line
Your license has a limited amount of ingests. Each row is an ingest. You can have more rows than ingests, but the maximum allowed is limited to the ingest number (25 in the example above). Hence you can enable/disable recorders when needed.
New Stream Studio recorders will automatically be added to this list as soon as they are setup to communicate with the Open Video Server. However, once you reach your maximum ingest number you need to check and possibly disallow or remove other recorders.
NOTE: When a recorder will be off-line for longer period it is useful to uncheck the allowed status. This will speed-up the loading process of the page.
Download
In 6.1 more recorder information is stored in the database. Via the download option you receive a list with all recorders and information.
More information is only available for iStream Studio version 6.x (the successor of Presentations2Go Controller),

Add custom recorders
With the

icon you can add custom recorders or live channels and Drop folders. For certified recorders read this
Other
Live Channel
This allows you to setup a live channel to stream directly from a device (or bridge) to the channel.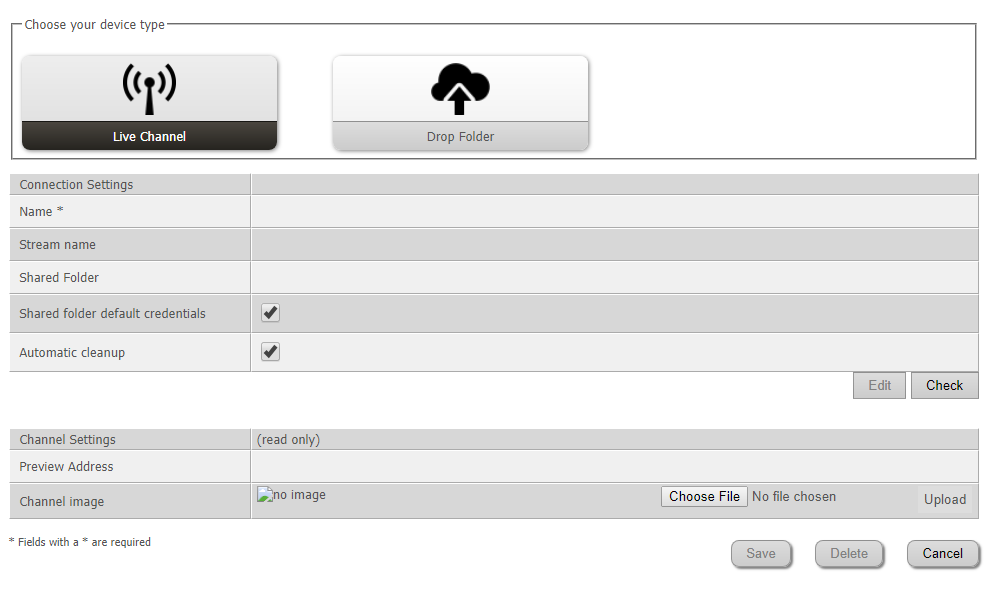 Drop Folder
You can setup a shared folder to check and process. Mp4 files in the folder will be copied to OVS and transcoded into multibitrate. When you enabled Automatic cleanup the original mp4 (on the shared folder) will be deleted automatically.
E.g. You could share a FTP folder that is receiving automatic uploads from third party recorders or tools such as Extron, Epiphan, Lumens, Synology surveillance station or Matrox.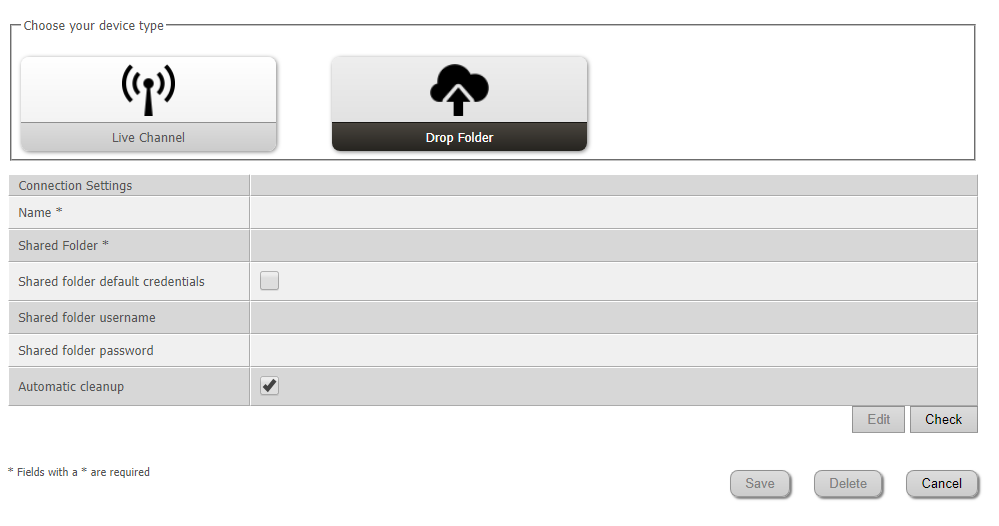 After you setup your Drop folder or Live Channel you can edit the properties, permissions and default metadata

When you add [filename] in the default title or description field, the filename without extension will be used to populate the metadata.