Extron
Extron devices can be configured with a web-interface almost similar for al certified types. Follow the next steps below to setup your recorder to connect to OVS.
Security
By default the Extron web-interface can be accessed by anyone. So we are going to add a password to the default admin account.
Go to the Extron recorder web-interface

Select

Configuration

Select

Users and Roles

from the sub-menu

Fill in the new password (twice) and save the new settings.

Write down the password together with the IP address and the MAC address of the device
File type en name
The default recording file-type is set to mv4, but OVS requires mp4.
Go to the Extron recorder web-interface

Select

Configuration

Now select

System Settings

from the sub menu

Unfold

Default Recording File Names

Select

mp4

Save your changes

Automatic file upload
The extron recorders are capable of uploading a recording to another storage location. We will be using this feature to upload recordings to a shared folder on the Presentations 2go OVS server.
Go to the Extron recorder web-interface

Select

Recorded events

Click on

Publish Settings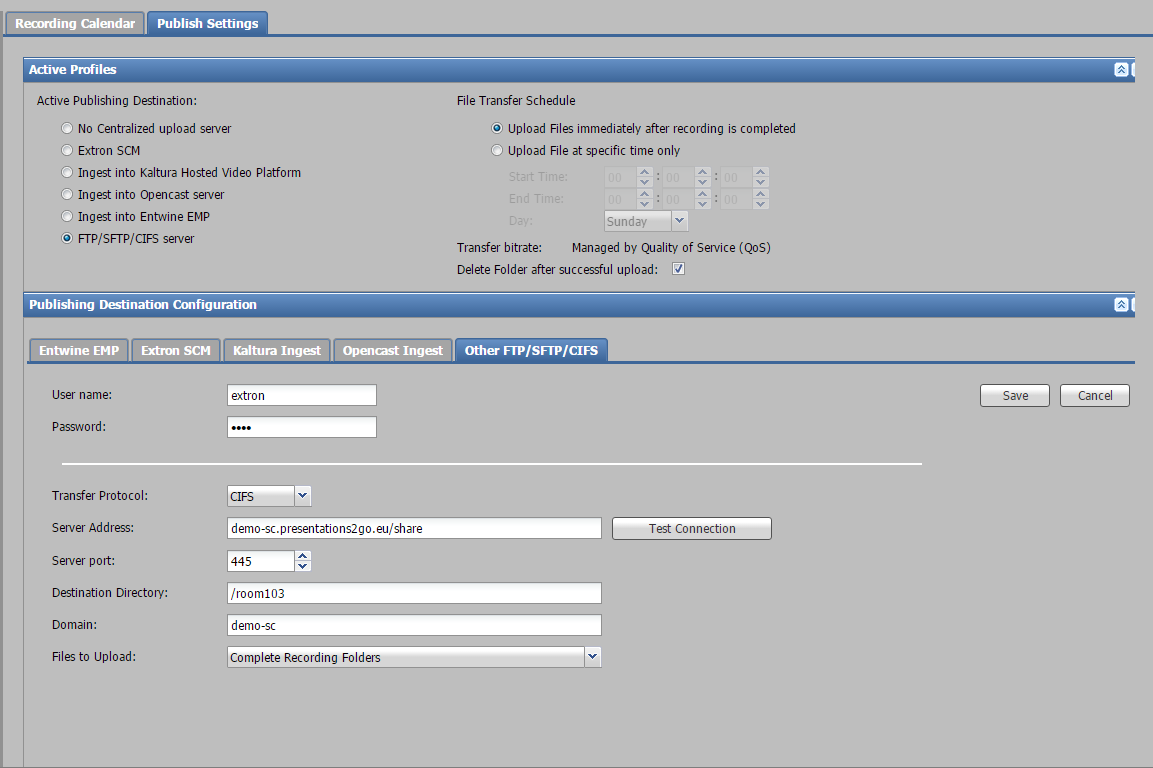 Select

FTP/SFTP/CIFS

server from the

Active Profiles

Switch to

Other FTP/SFTP/CIFS

in the

Publishing Destination Configuration
CIFS
Enter the recorder username you have created earlier

Enter the password for this recorder account

Select CIFS as transfer protocol

Enter the server-name and shared root folder

Set server port at

445

Enter the unique recorder folder you have created previously in the shared root folder

Set the

domain name

(or machine name in case of local-machine accounts)

Select

Complete Recording Folders
Save and test your connection. The extron will create and remove a tmp folder on the OVS server during the test.
NOTE: Other settings are type specific and will be explained per type.