Embedding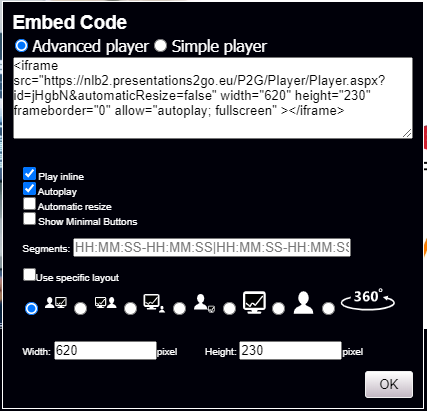 You can embed a recording in other websites with an embed code. This code is automatically generated in the embed wizard.
By default the embed code will show a thumbnail of the video and slide in an iframe. When you click on either the video or slide thumbnail an external browser window/tab will open.
You can set additional properties that will determine the look and feel of player:
Play inline; this will make the video play inside your website instead of showing thumbnails. We discourage using this setting when the target website is using SSL / HTTPS. It can cause mixed content warnings in certain browsers.

Show Minimal Buttons; this feature will hide some player buttons. Best used in combination with Play inline.

Selected layout; when you choose a layout, you force the start scenario. Users can still overrule this layout. Use layout 2 when the presenter was positioned right of the presentation screen during recording. Or use layout scenario 7 when you want to emphasise the slides and hide the presenter.

Width | Height; this will set the width and height of the iframe. In case of richmedia you need an aspect ratio of 8:3 (both video and slides in 4:3) or 32:9 (both video and slides in 16:9). A width of 100% is also possible. However, 100% height is often not working.